---


The Text In-bedder


This one's for Sicko! You haven't experienced Strangesite until you've read each of the stories through the Text In-bedder.
---

Red Meat
These comics are... well, you'll see.
---
The true and original Mental Ward was created by the Lord of Lemurs and the Sultan of Sloths. Lord writes stories which are even less coherent than mine, and I've helped write some of them under the name Patient 91i. The site itself is an odd place of social events. I'm a frequent visitor.
---
Long live Sailor Moon! This site is the sole reason we can still watch the show. I visit there nearly every day for updates, but there is PLENTY to offer newcomers. Check out SOS Doom][ while you're there and the "Sightings of a different kind" section. (Incedentally, I bought my Pop Tarts, did you?) For slower modems, click here for the graphics-light page.
---


Anime Web Turnpike
There's no better place on the Web to get a dose of anime goodness than the Anime Web Turnpike!
---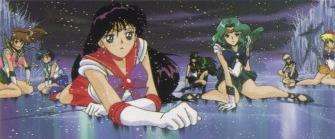 A Sailor Moon Romance
If you've ever seen a page with Sailor Moon fanfics, then you've seen Andera Hui's name. Thank you for everything, Andrea!
---

The Magic 8-ball
Go ahead. Ask a question.
---

Shakespearean Insult of the Day
We could all use a good insult from the style of the great poet every now and then.
---
In case you wanted to see what our school is like from a normal perspective, this is the official site for Niles West and Niles North. Oh, and yes. The counter at Strangesite is higher than Niles West's.